!1. november 2008 15:02 -->

<!color #8999 is green --->
TANINA KONO

live in Vollsmose House of Culture October 2010

Basiru Suso - kora and vocal
Per Nyboe - guitar and vokal
Christer Irgens-Møller - keys, bass and vocal
Modou Traore - jembe, percussion





Tanina kono ~ birds of passage ...

plays a cross-over of Danish and Westafrican music based on own compositions. In the summer of 2006, these four musicians joined. The two Danish musicians, Nyboe and Irgens-Møller fostered they idea of forming a band with musicians from this abundant music culture on a stay in Mali some months before. Basiru Suso had already been an aquaintance for some time and the percussionist Modou was introduced by Basiru .
Out of the different background and experience of these musicians, a common musical expression have evolved - where tradition merges with the present, not only in the music itself, but also by combining kora and jembe with guitar and synthesizer.


---




listen to Tanina Kono på MySpace


Basiru Suso and Modou have their roots in the grand Mandingo culture, which is to be found in today's Mali, Senegal and Gambia. Suso is a true master, and a virtuoso on his instrument - the kora - a harp with 21 strings. He is an educated griot - a troubadur who, according to tradition is expected to improvise praise songs to the people present and sing the latest news and announcements. Furthermore, a griot knows the hymns for the heros and the proud history of the kingdom of Mali.
Modu plays the jembe, the big expressive handdrum, which is used as accompaniment and solo drum as well. Also, he masters the tama - a solo-drum with a wide range of expression. It is used as a talking drum when imitating the sounds of the language.


---

The repertoire contains songs in Danish and Manding; themes from Danish folk music is combined with a song by Suso; and Nyboe and Suso sing their native language in the same song! The texts are about love and peace in the world. Through the music all human beings are connected on a higher level.
| | | |
| --- | --- | --- |
| | | Christer Irgens-Møller |
| Basiru Suso | | |
| | | |
| --- | --- | --- |
| | | |
| Modou Traore | | Per Nyboe |
Nyboe, Suso, Irgens-Møller and Modou are professional musicians, who has toured Denmark numerous times through the years. Suso and Modou with bass-player Moussa Diallo, Per Nyboe, solo and backing by Michael Holmberg and Henning Pold amongst others, Christer Irgens-Møller in Zebra with Ayi Solomon (Ghana), Tchando (Guinea-Bissau) a.o. and in the avantgarde group Clinch.


Booking: Per Nyboe phone +45 62 25 20 90 or cell + 4524 25 66 02
or e-mail to Christer Irgens-Møller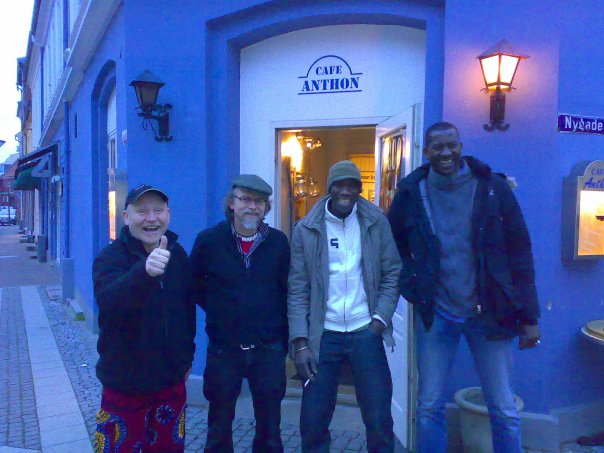 Tanina Kono in Nyborg (DK) 2009.